July 17 – 26, 2022
This pilgrimage is currently full.  Please e-mail Chris Jeffrey at chris@shalem.org to have your name added to the waitlist.
Overview
For centuries, pilgrims have walked the Way of St. James – the Camino de Santiago – for spiritual deepening, healing, and inspiration. Walking the well-trodden path parallels the inner journey pilgrims make. We invite you to walk with us on the Portuguese Way, one branch of the Camino. Fellow seekers have made this pilgrimage for many different reasons and at different stages in life. On the journey you'll be invited to remember your intentions, release whatever you feel called to let go, and reimagine the rhythm of your life in light of this experience.
We will depart each morning, stopping for breakfast and sharing silence until noon. Lunch will be on your own as we walk (plenty of places to do so). We'll arrive at our lodging for the night by midafternoon. Some days we will hold seminars and pilgrim listening circles to consider our themes and intentions. Other days, you'll have free time to explore the stop on the way and reflect on your own. We'll share dinner each evening.
As you walk in the silence, what do you hear and notice? How is God speaking to you on this journey? The practice of pilgrimage is as much about holy listening as it is about walking. Our seminars and pilgrim circles will allow us time to listen to each other and consider how others have been called to pilgrimage with God. We'll take an expansive view of walking with God, looking to figures like Harriet Tubman and Dorothy Day for guidance.
We will arrive in Santiago on the Feast of St. James, an ideal opportunity to honor our journeys as we integrate our experiences. As we prepare to return, we know that we'll keep walking with the Holy, transformed by the inner and outer journey of this time.
Frequently Asked Questions
Please click here to download a copy of our FAQ sheet.
Itinerary
Sunday, July 17 – Viladesuso-Oia
We gather at our lodging in Viladesuso-Oia, Spain in the late afternoon, beginning with an opening circle of introductions and setting our intentions for the journey ahead.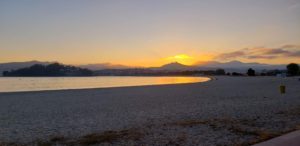 Monday, July 18 – Baiona
We begin our daily rhythm of walking, leaving Viladesuso-Oia by 7:30 AM in silence and arriving in Baiona by mid-afternoon. We will hold our first seminar on remembering will spend time in listening circles before dinner.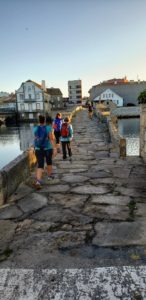 Tuesday, July 19 – Vigo
After the longest day of walking, pilgrims will have time to explore the large port city of Vigo.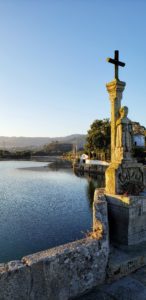 Wednesday, July 20 – Redondela
This day's walk will take us up and down a mountain. We will hold our second seminar on releasing and spend time in listening circles before dinner.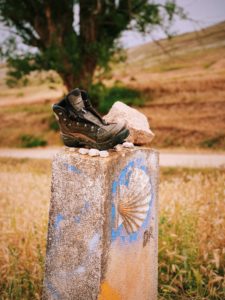 Thursday, July 21 – Pontevedra
Upon our arrival in this lively town, pilgrims will have free time to explore, including the Pilgrim's Chapel and Convent of St. Francis.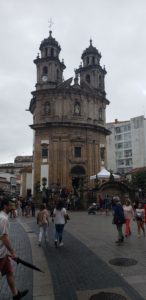 Friday, July 22 – Caldas de Reis
We will continue our walk to the sleepy town of Caldas de Reis. We will take time to tend to our bodies after five days of walking, stopping by a natural hot spring.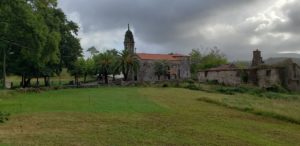 Saturday, July 23 – Padron
As we draw closer to Santiago, we'll hold our third seminar on reimaging. We will hold time for pilgrim circles before having dinner in this town famous for its peppers.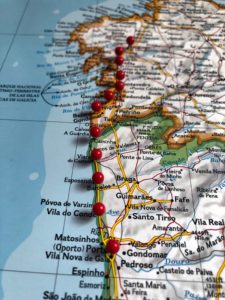 Sunday, July 24 – Santiago
We arrive in Santiago on the eve of the Feast of St. James. We will reexamine our intentions and prepare to ease into the next day's festivities.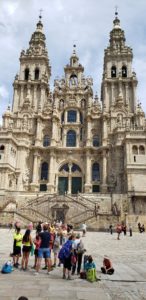 Monday, July 25 – Santiago
We hold a closing circle in the morning. Enjoying free time during the day, we gather in the evening for the Feast of St. James Day festivities.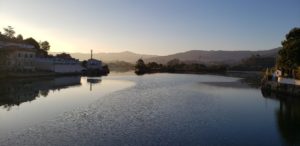 Tuesday, July 26 – Santiago
Pilgrims depart for home.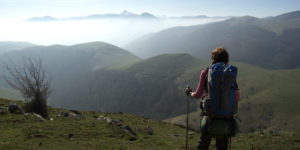 Leaders
Jackson Droney is Shalem's Director of Operations and Online Learning, overseeing Shalem's finances, HR, online courses, and all the nuts and bolts that make Shalem hum. He loves discerning with others how organizations can identify and live more deeply into their purpose, and is excited to be part of organization development work at Shalem. Jackson is a graduate of Shalem's Personal Spiritual Deepening Program, Young Adult Life and Leadership Initiative (known now as Crossing the Threshold), and Soul of Leadership program. Prior to working at Shalem, Jackson spent several years working in federal politics, as a staffer on Capitol Hill and as a lobbyist for not-for-profit electric utilities. He holds a B.A. from Syracuse University and a Master's degree in Human Resources Management from Georgetown University. At Shalem, Jackson also serves on the faculty of the Crossing the Threshold program and leads Shalem pilgrimages to Spain. He is a student at Luther Seminary and is a candidate for pastoral ministry in the Evangelical Lutheran Church in America (ELCA).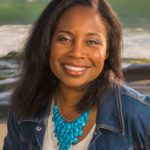 Brenda Bertrand is a co-director of the Heart Longings program and serves on the staff of Shalem's YALLI: Young Adult Life and Leadership Initiative. Brenda served as an intern at Shalem and graduated from Shalem's Group Spiritual Direction and Heart Longings programs. As an ordained minister, spiritual companion, and seminary chaplain, she finds joy in companioning emerging leaders and people of color on their contemplative journeys. Brenda believes pilgrimage is a spiritual practice and has participated in and led sacred travel adventures across the globe since 1997.
Price & Apply Now
This pilgrimage is currently full. Please e-mail Chris Jeffrey at chris@shalem.org to have your name added to the waitlist.
Regular Price: $2500
Application Deadline: 2/1/22 ($500 deposit due)
Installment Dates: 3/1/22; 4/1/22
Installment Price: $1000
*Includes $500 deposit
NOTE: The price of the pilgrimage includes nightly lodging, breakfast and dinner each day, and the cost of transporting baggage to and from each lodging location.
Travel Considerations: 
We are requiring all pilgrims to be fully vaccinated against COVID-19. If it is determined in the future that booster shots are needed for the safety of pilgrims, we might require booster shots. Our pilgrimages will follow all future travel guidelines set by the country in which the pilgrimage will take place.
If you have any questions, please contact the registrar Chris (chris@shalem.org).
Cancellation Policy
If you must cancel your reservation, refunds will be made as follows: cancellations received on or before April 1, 2022: 100% of monies received minus $500 non-refundable deposit; cancellations received between April 2 and May 15, 2022: 50% of monies received minus $500 non-refundable deposit; no refunds will be made for cancellations received after May 15, 2022. Shalem reserves the right to cancel the pilgrimage for any reason, in which case you will receive a full refund of all monies paid.