IN MEMORIAM
Rose Mary Dougherty, SSND
Shalem's Senior Fellow for Spiritual Guidance
July 22, 1939 – February 28, 2019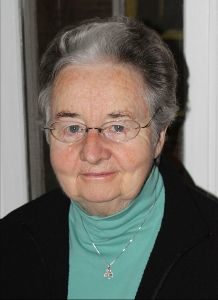 Rose Mary joined the core Shalem staff in 1985, retiring in 2003, although she continued to offer selected seminars for a number of years. During her time on staff, she shepherded Shalem's Spiritual Guidance Program and created and directed the Personal Spiritual Deepening Program and Facilitating Group Spiritual Direction Program. In the late 1980s, she introduced a process of group spiritual direction, which became the subject of two books and a DVD. She also wrote extensively for Shalem's print newsletter and in 2000 published her final book, Discernment.
A Zen student for many years, Rose Mary was called forth as a dharma holder in the lineage of the White Plum Asanga, becoming a dharma heir in 2006. As a sensei (teacher), she helped people integrate contemplative presence and just action in their lives. In 2008, she co-founded Companioning the Dying, a program committed to nourishing those who feel called to serve the dying, and in 2016 stepped back from active teaching as she faced the challenges and invitations of Parkinson's disease.
We know Rose Mary touched many lives at Shalem and elsewhere, and we are filled with gratitude for the time she spent with us here. Her loving witness will surely live on in our own lives and hearts.
Rose Mary had a deep love of poetry and used it often in her teachings. We share one of her favorites below, "From A Woman's Life," in Hope Is A Blind Bard  by Sr. Maura Eichner:
What Mary knew was just
enough for the usual day:
Pull water, flint fire, bake
bread, smile, pray
the dark orations, sleep, wake,
wait. When pain honed a nerve,
when birth or dying clotted
an hour, she leaned to the curve
of living, resilient to fear,
laughter, suffering.
Partings are a little death.
Each one's journey is a thing
wholly without precedent.
She looked at the sky
for compass. None. She, too,
created a road to travel by.
If you would like to view the program booklet from her memorial service, click here.
Here also are the PDFs for the homily that Fr. Muth preached and the eulogies that Tilden Edwards and Bill Dietrich gave at the service.
You may also view comments from the Shalem community in this PDF.
Gifts given in Rose Mary's memory will be gratefully received and acknowledged in our annual report, which comes out in the fall. You may make a gift by clicking here.