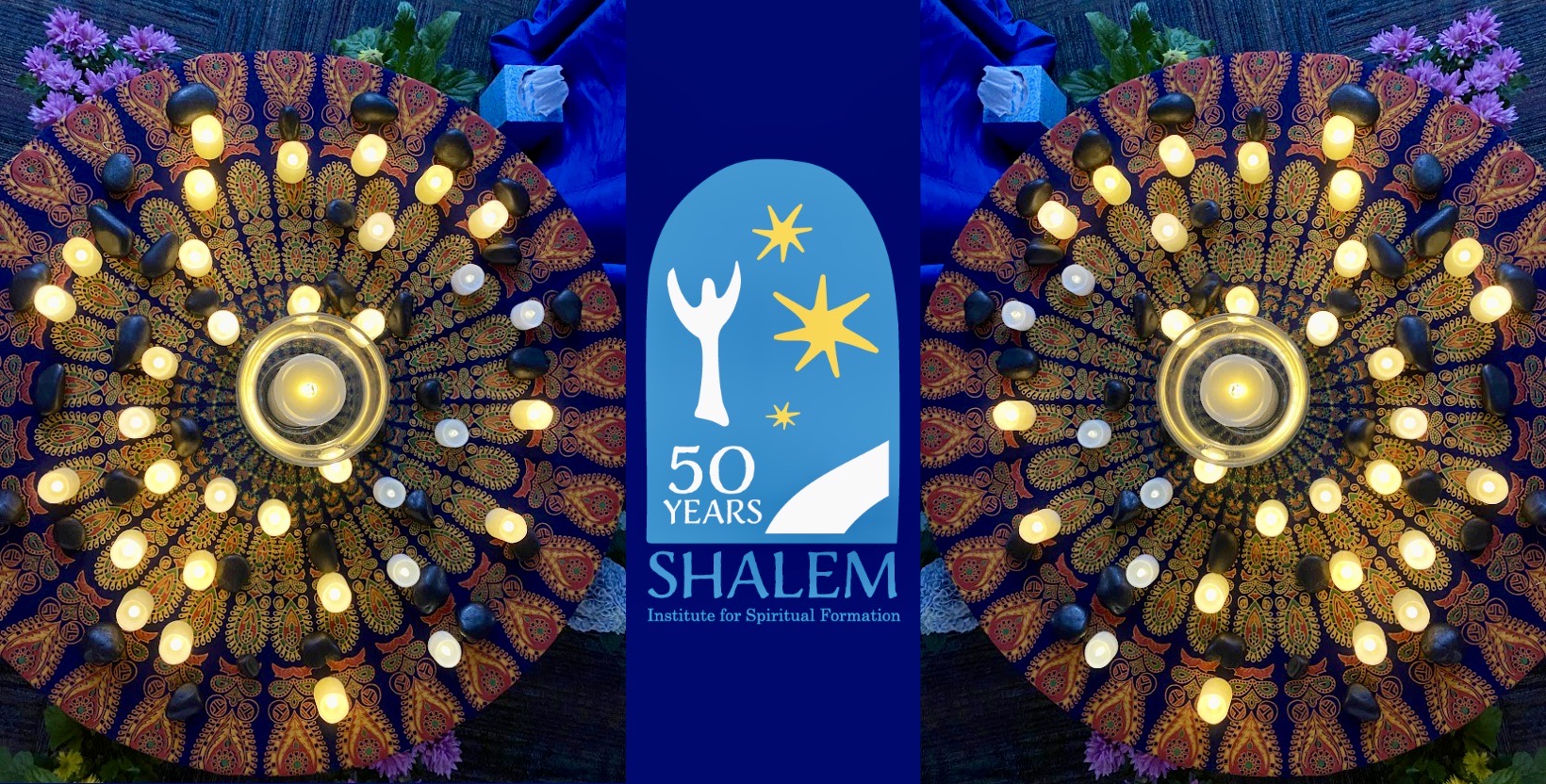 CELEBRATE THE 50TH ANNIVERSARY OF SHALEM INSTITUTE
Fifty Hour Vigil of Prayer
12:00pm ET on Friday, October 6, through 2:00 p.m. ET on Sunday, October 8
Shalem's Fifty Hour Vigil of Prayer celebrates the fiftieth anniversary of Shalem. This is a time to gather and give thanks for Shalem's gift to us and to the world. Each hour will be introduced by a member of the Shalem community who will invite us into Sacred Silence. You are welcome to join us at any time, though we encourage you to join in at the top of the hour.

Come and join in Holy Presence.

The Zoom room for the Vigil will open at 11:30am ET on Friday, October 6.

For security reasons, please do not post this Zoom link on social media.

Zoom link: https://us02web.zoom.us/j/87282258868

Contact Winston Charles if you have any questions.


SCHEDULE OF PRESENTERS FOR THE FIFTY HOUR VIGIL OF PRAYER (Eastern Time (ET))
Friday, 10/06/23
12:00 Noon Margaret Benefiel, Washington, DC, USA
1:00 p.m. Ostein B. Truitt, Columbia, MD, USA
2:00 p.m. Phillip Stephens, New Castle, DE, USA
3:00 p.m. Geja Laan, Sneek, The Netherlands
4:00 p.m. Fay Acker, Washington, DC, USA
5:00 p.m. Liz Ward, Alexandria, VA, USA
6:00 p.m. Katie Archibald-Woodward, Ancestral Lands for the Muscogee Creek People, Atlanta, GA
7:00 p.m. Julie Pennington-Russell, Washington, DC, USA
8:00 p.m. Ambrose Hong-il Kim, Republic of Korea
9:00 p.m. AY Bryant, Durham, NC, USA
10:00 p.m. Keith Kristich, Buffalo, NY, USA
11:00 p.m. Dave Killeen, Swarthmore, PA, USA
Saturday, 10/07/23
12:00 Midnight David Andrews, Wilmington, DE, USA
1:00 a.m. Peter Wiltshire, Victoria, Australia
2:00 a.m. Sonya Green, Hartford, CT, USA
3:00 a.m. Dave Robinson, Ocean Park, ME, USA
4:00 a.m. Trish Stefanik, Germantown, MD, USA
5:00 a.m. J. Lee Hill, Richmond, VA, USA
6:00 a.m. Emily Johnson Kellar, South Dartmouth, MA. USA
7:00 a.m. Nancy Corson Carter, Chapel Hill, NC, USA
8:00 a.m. Jackson Droney, Washington, DC, USA
9:00 a.m. Peter Wiltshire, Victoria, Australia
10:00 a.m. Flora Visser, Makkum, The Netherlands
11:00 a.m. Sarah Willie-LeBreton, Northampton, MA, USA
12:00 Noon Althea Anita Banda-Hansmann, Ancestral Lands of the Khoi and San Cape Town, South Africa
1:00 p.m. Scott Rohr, Manakin Sabot, VA, USA
2:00 p.m. Kathie and Peter Nycklemoe, St.Paul, MN, USA
3:00 p.m. Carole Crumley, Washington, DC, USA
4:00 p.m. Kahu Scott Landis, Keawala'i Congregational UCC, Mākena, Maui, HI, USA
5:00 p.m. Oommen Thomas, Olmsted Falls, OH, USA
6:00 p.m. Anita Davidson, Columbus, OH, USA
7:00 p.m. Elmor van Staden, Johannesburg, South Africa
8:00 p.m. Nicole Uzans, Wolfville, NS, Canada
9:00 p.m. Nan Weir, Columbus, OH, USA
10:00 p.m. Lorie Conway, Bel Air, MD, USA
11:00 p.m. Rod Dugliss, San Francisco, CA, USA
Sunday, 10/08/23
12:00 Midnight Robin Seiler, University Park, MD, USA
1:00 a.m. Ambrose Hong-il Kim, Republic of Korea
2:00 a.m. Trey Campbell, Washington, DC, USA
3:00 a.m. Audrey Cox Smith, Chesterfield, VA, USA
4:00 a.m. Gerald Westcott, Cupids, NL, Canada
5:00 a.m. Susan Etherton, McLean, VA, USA
6:00 a.m. Stuart Higginbotham, Gainesville, GA, USA
7:00 a.m. Leah Rampy, Shepherdstown, WV, USA
8:00 a.m. Dawn Peck, Lexington, VA, USA
9:00 p.m. Ann Dean, Potomac, MD, USA
10:00 a.m. Gay Byron, Washington, DC, USA
11:00 a.m. Charlie Parker, Washington, DC, USA
12:00 Noon Katy Gaughan, Washington, DC, USA
1:00 p.m. Margaret Benefiel, Washington, DC, USA
2:00 p.m. Conclusion of 50-Hour Vigil of Prayer
Soul Food: Nourishing Essays on Contemplative Living and Leadership
Commemorating the 50th anniversary of the Shalem Institute, this collection of experiential and academic essays offers modern contemplative reflections from new and renowned voices in spiritual leadership.

Co-edited by Shalem graduate and board member Westina Matthews, Shalem's Executive Director Margaret Benefiel, and Jackson Droney, Shalem's Director of Operations and Online Learning, Soul Food offers contemporary and inclusive insights to the ageless challenges of contemplative spirituality. This commemorative anthology features 17 essays written from the rich experience of Shalem's leaders and teachers.

How to Order Soul Food with Discounts:
The book is available via Church Publishing. Go to www.churchpublishing.org/soulfood and enter SOUL20 to get a 20% discount. Ebook links for Soul Food are also available via Church Publishing. 25% discount available on Amazon Kindle and Nook. All royalties will be donated to Shalem to support future Diversity, Equity and Inclusion initiatives.

Order book here: www.churchpublishing.org/soulfood

"Exploring numerous rich perspectives on contemporary Christianity—from gender identity and theological languaging to issues of recovery, welcome and inclusion, decolonization, and social action, among others—the authors are unafraid to tackle new perspectives, all while staying firmly rooted in the core of their faith. Anyone interested in immersing themselves in these topics will be well served here." – Rev. SeiFu Singh-Molares, Executive Director, Spiritual Directors International

"Established by Tilden Edwards those many years ago, the Shalem Institute has continued to offer a safe space for diverse individuals to engage with the sacred and restore the divine image of an abundant, loving God. An illuminating addition to any spiritual library, Soul Food is a testament to the institute's rich history and commitment to transformative spiritual growth." – Fr. Richard Rohr, author of Falling Upward and founder of the Center for Action and Contemplation

"With this book, Shalem sets forth a radical agenda for the next fifty years where we must do all we can to bend the arc of the moral universe toward love, truth, and justice. If you have any affinity for the contemplative life, you'll find this book a compelling companion as we work and pray for the Beloved Community." – Parker J. Palmer (author of Let Your Life Speak, The Courage to Teach, and On the Brink of Everything)

"An inclusive collection brimming with nourishing essays honestly exploring ways to be a loving human in an inhuman system, Soul Food is a community of contemplative authors also compassionately addressing the ailments of our society. Their work offers us new wineskins of openheartedness, which can help us create a larger table where everyone is invited to sit and have plenty." – Carmen Acevedo Butcher, Ph.D., poet and translator of Brother Lawrence's Practice of the Presence (Broadleaf) and The Cloud of Unknowing (Shambhala)