In the Footsteps of St. Francis and St. Clare: A Virtual Pilgrimage to Assisi
May 7-14, 2021
This pilgrimage will be offered online through Zoom.
A pilgrimage is a journey, of experience if not of geography, into new and seemingly uncharted territory. . . With vision somewhat more clear as a result of the journey, one can discover a richness within one's own heritage which had previously been overlooked. . . [O]ur pilgrimage is taking us home. – Gerald May, Pilgrimage Home
No matter how short the distances and familiar the route you travel on a given day, you can do it as a pilgrim. . . Whether the journey is within your own backyard or takes you to the other side of the world, the potential is there for the greatest of adventures: a journey not only toward [God] but also with [God]. – Jim Forest, The Road to Emmaus: Pilgrimage as a Way of Life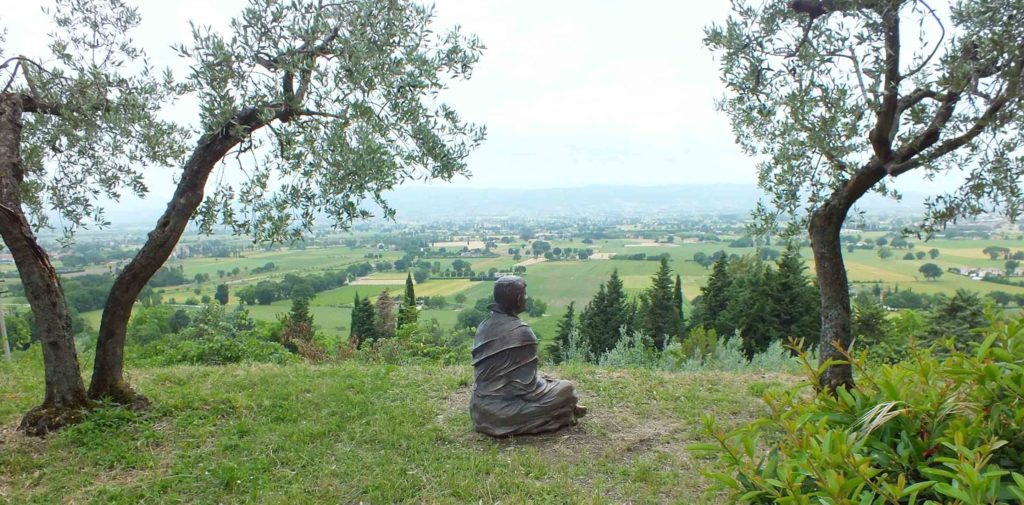 Overview
In times of pestilence and warfare, early pilgrims were forced to find safer alternatives to travel, and many walked the labyrinth, like the one embedded in the floor of Chartres Cathedral, in symbolic pilgrimage. Unlike a maze, which is designed with deceptive turns leading nowhere, all turns in a labyrinth lead the pilgrim toward the center, toward God, allowing one to free oneself of worry and to delight in the journey.
How might we reimagine pilgrimage during this time of COVID-19? Can we open ourselves to the movement of the spirit and imagine entering into a sacred space of beauty and deep spiritual inspiration in a journey safely close to home?
The inspirational messages of the saints that continue to resonate and inspire are certainly not confined by location. And since our options for travel remain limited, we, like early pilgrims in times of plague, have been planning safe alternatives to this in-person pilgrimage. In our other programs and activities, we are finding that virtual technologies (like Zoom) can offer creative ways to build sacred community. Large group activities help bind us together while small groups allow for more intimate sharing and discovery. Pilgrimages provide structures and companionship which enrich and encourage personal and community journeys closer to God. We invite you on such a journey with us as we walk in the footsteps of Saints Francis and Clare of Assisi.
As the stories of these saints unfold, the glorious art which echoes their lives can be explored in new and creative ways and used as inspiration for a contemplative practice based upon these images. Designated private time for journaling and reflection helps deepen the personal experience. We will support one another in making space in our lives and locations for this journey and, with the aid of labyrinthlocator.com, we can find local labyrinths to walk as part of our collective journey. We are excited and energized as we reimagine pilgrimage to meet these challenging times. There is the possibility of being filled with great joy.
Won't you consider joining us on Zoom as we safely walk in the footsteps of Saints Francis and Clare of Assisi in May?

Itinerary
We will begin at 4 PM Eastern Time on May 7 and finish at 12:30 on May 14. Each day will include a rhythm of time alone, time in the whole group, and time in smaller pilgrim circles. We will spend mornings together, afternoons primarily in reflection and rest with a late afternoon session together, and evenings together.
May 7: Setting out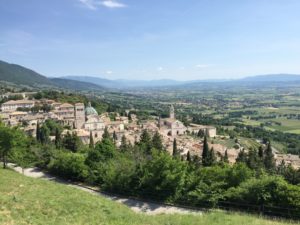 On the first day, we gather to reflect on setting out on our pilgrim journey at home, considering the difference between being an armchair tourist and an at-home pilgrim. We will meet as a whole group and have our first meeting with our smaller pilgrim circles. An overview of Assisi will be provided.
Using the labyrinth as our metaphor for pilgrimage, we will consider those moments when we turn toward God. We will then examine Francis' early life, illustrated by fresco panels by Giotto from the Basilica of St. Francis, in which he made several false turns toward worldly glory before relinquishing his life to God. What did his first turns look like? In our pilgrim circles, we will reflect on turns in our own lives when we have responded to God's invitation. What is God's invitation to us now? We will end the day with Compline in the crypt chapel of the Basilica of St. Francis via live webcam.
May 9: Community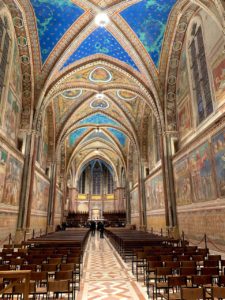 Francis and Clare soon discovered the need for spiritual community, both for support and for accountability. We will visit Francis' first places of creating community with his brothers (Rivotorto and the Portiuncula) and reflect on the Franciscan community experience. We will see the strength of Clare's yearning for spiritual community/ living the Franciscan way which made her escape from her home in the dark of night. We will reflect on our own experiences of spiritual community in our pilgrim circles. The day will end with sung evening prayers with the Poor Clares.
May 10: Contemplation and Action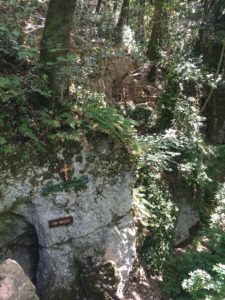 Both Francis and Clare lived a rhythm of action and contemplation. We will explore the Franciscan hermitage tradition, the balancing of the active life serving the poor in the city with the solitude of prayer in lonely places, visiting the Hermitage of the Carceri. We will walk with Clare through a day in her cloistered life at San Damiano, in which her silent prayer and her influence on the world nourished each other.
May 11: Experiencing that Still, Small Voice (Silent Retreat)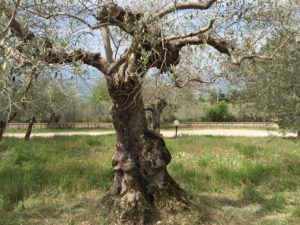 Yesterday's focus on contemplation and action ushers us now into a day of personal reflection and silent contemplation. We will begin with a group contemplative practice and then share personal reflections from the previous day. After a brief discussion of the Franciscan hermitage tradition we will enter into our prayerful day of silence. We encourage you to walk a labyrinth nearby if possible or find your own path as you walk in nature. You will carry the concerns and prayers of fellow pilgrims as you explore the many turns toward God. How does God greet you along the way? Your day may include journaling or other creative expression. At the end of the day, we will gather to break the silence together, both in our pilgrim circles and in the larger group.
May 12: Unexpected Turns (Death and Life)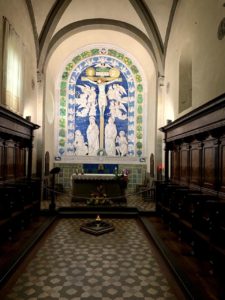 The labyrinth is not an easy spiral path toward God. As you may have experienced yesterday, sometimes you find yourself very close to the center, and at the next turn you are on the outer edge, far from the center. Both Clare and Francis experienced these unexpected turns. Francis felt himself a failure and needed to relinquish his leadership of the Order. But his withdrawal to the mountaintop retreat of LaVerna, which we will visit today, resulted in the most profound spiritual experience of his life. Clare desperately wanted to be an active force in the world, but was confined to an isolated cloistered life as her health declined. And at Francis' death, she lost her spiritual companion. But for both, their unwavering faithfulness brought them to the heart of the divine. When have we felt these unexpected turns and how do we keep faith?
May 13: Everything and Nothing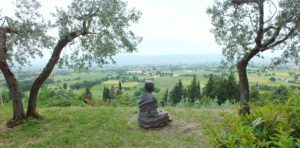 Franciscan spirituality continues to inspire open-hearted service, deep prayer, and heroic acts. We will consider one example, the Assisi Underground during World War II, a courageous network which hid and saved many Jews. We will walk with the heroes of the Assisi Underground through Assisi's hiding places.
May 14: The End of Our Journey and Return into Ordinary Time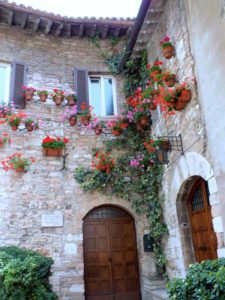 As our time together comes to an end, we will reflect on the implications of our experiences for our lives as we prepare to return back into the world. We will use several group experiences to tell the story of our journey and to celebrate what we have come to know of one another on this path. Expect laughter and joy, as well as deep reflection, as we share our last morning together.
Leaders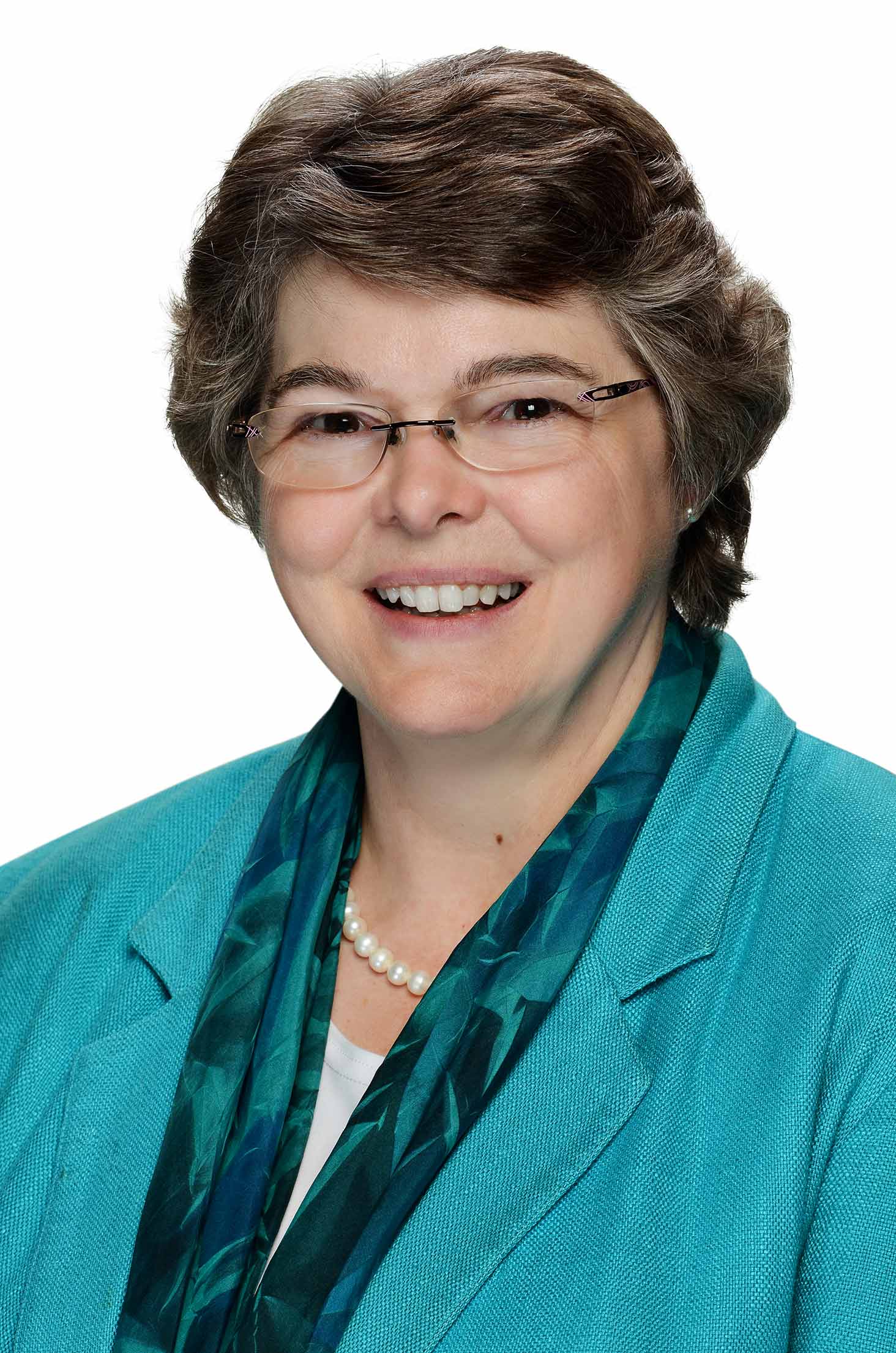 Margaret Benefiel, Ph.D., Executive Director of the Shalem Institute, has led or co-led ten previous pilgrimages to Italy. As a Quaker and a spiritual director, she finds great inspiration from Saints Francis and Clare. Dr. Benefiel is also a teacher and retreat leader and has served in various leadership roles in Spiritual Directors International and as the co-chair of the Christian Spirituality Program Unit of the American Academy of Religion. Dr. Benefiel is the author or co-editor of five books and numerous articles.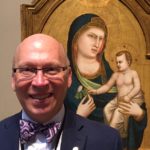 Chuck McCorkle, MSW has an undergraduate degree in Fine Arts and has long felt a strong spiritual connection with art and contemplative practice. In the mid 1980s, he relinquished his privileged role in the studio to follow a vocational calling to do AIDS work. In retirement, the call to service brought him to Sierra Leone to provide mental health support to an Ebola Response Team. To find balance and to feed the spirit, he has volunteered at the Isabella Stewart Gardner Museum, the Phillips Collection, and the National Gallery of Art, where he is currently a docent. During his first pilgrimage to Assisi he was struck by the rich diversity of sacred space and visual art associated with Francis and Clare, all of which deepened his experience of prayerful renewal. He has collaborated with Margaret Benefiel in past workshops on prayer and forming spiritual support groups.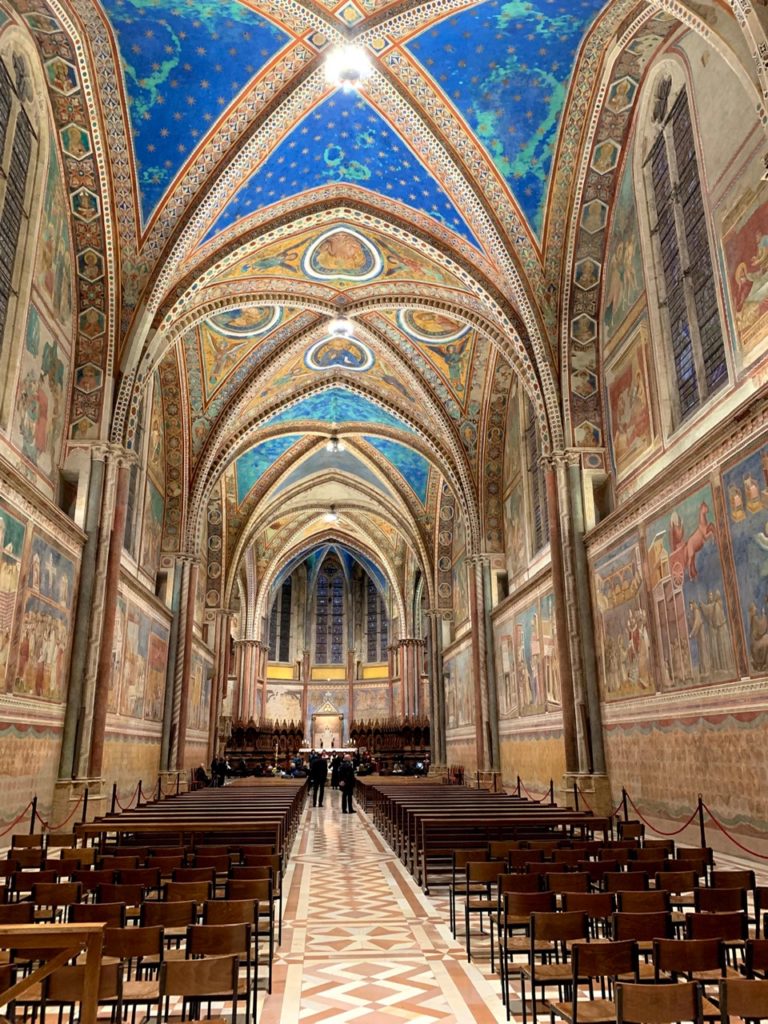 Price & Apply Now!
Registration is now closed.