Contemplative Voices Award
Shalem's Contemplative Voices Award was created to honor those individuals who have made significant contributions to contemplative understanding, living and leadership and whose witness helps others live from the divine wellspring of compassion, strength, and authentic vision.
Honoring Rev. Dr. Barbara Holmes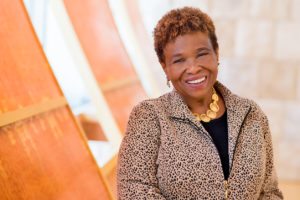 Shalem is pleased to award our 2020-21 Contemplative Voices Award to Rev. Dr. Barbara Holmes, well-known author, spiritual teacher, activist, and scholar focused on African American spirituality, mysticism, cosmology, and culture.
Please join us for a special fundraising event to celebrate this award and to support Shalem's work and ministry in the world.
Shalem's Executive Director, Margaret Benefiel, will interview Rev. Dr. Holmes live on the topic of her forthcoming book, Crisis Contemplation, focusing on the place of contemplation in the crises facing us in today's world.
Details
Sunday, March 14, 2021, 3-5 PM ET
(This is the first day of Daylight Saving Time)
On Zoom
The event will include:
Opening prayer by Shalem's founder and senior fellow, Rev. Dr. Tilden H. Edwards, Jr.
Reflection on Rev. Dr. Holmes's contribution by Shalem board member, Dr. Westina Matthews
Interview of Rev. Dr. Holmes by Margaret Benefiel
Small group conversation
Q&A with Rev. Dr. Holmes
Prayers for the World with Katy Gaughan
Registrants will also receive a complimentary copy of "An Interview with Rev. Dr. Barbara Holmes: Community Solidarity Requires Both the I and the We."
Following the event, registrants will also receive a video of Rev. Dr. Holmes being interviewed by Margaret Benefiel.
Suggested donation is $75. You may choose to pay more or less by changing the price in the box.
Registration is now closed.
About Rev. Dr. Barbara A. Holmes
Dr. Holmes is a spiritual teacher and writer focused on African American spirituality, mysticism, cosmology and culture. She is President Emerita of United Theological Seminary of the Twin Cities (2012-2016). She also served as Vice President of Academic Affairs and Dean of Memphis Theological Seminary (2005-2010). She holds the title of Professor Emerita of Ethics and African American Religious Studies at that seminary. Currently, she is a core faculty member at the Center for Action and Contemplation founded by Fr. Richard Rohr.
Holmes was called to ministry while working as a corporate lawyer for the J.C. Penney Corporation, and was ordained in the Latter Rain Apostolic Holiness Church in Dallas, Texas. Today, she has privilege of call in the United Church of Christ and recognition of ministerial standing in the Christian Church (Disciples of Christ). Dr. Holmes grew up in New Haven, Connecticut, and was a member of Dixwell Avenue Congregational Church.
Dr. Holmes has earned the following degrees: a Bachelor of Arts in Sociology and a minor in Theatre Arts from the University of Connecticut; a Master of Science in Education from Southern Connecticut University; a Master of Divinity degree from Columbia Theological Seminary; and a Doctor of Philosophy in Religion (Ethics) from Vanderbilt. Also, she earned a law degree from Walter F. George School of Law, at Mercer University and practiced law in Miami, Atlanta, Macon and Dallas. She specialized in civil litigation, corporate, and appellate practice. She says, "My life is committed to the struggle for justice, the healing of the human spirit, and the art of relevant and radical creativity."
In addition, Dr. Holmes has worked with homeless missions; HIV/AIDS support groups and international ministries in Kenya (the Presbyterian Church of East Africa) and Japan. The author of several books and numerous articles, her most recent publications include: The second revised edition of Race and the Cosmos: An Invitation to View the World Differently, 2002, 2020; Dreaming; Liberation and the Cosmos: Conversations with the Elders; and Joy Unspeakable: Contemplative Practices of the Black Church 2004, second revised edition 2017. Dr. Holmes is married to George Ford and has two sons: Marcus, a film director, and Jason, a professor of music.
Become a Supporter or Sponsor
Would you like to become a Supporter or Sponsor of the Contemplative Voices Award Event?
With gifts of $500-$999, Supporters will:
Receive four tickets
Supporters will be thanked and acknowledged during the event.
With gifts of $1,000 and above, Sponsors will:
Receive up to ten tickets, available upon request;
Sponsors will be thanked and acknowledged during the event and will also be listed on Shalem's website.
With each ticket, you also will receive a copy of "An Interview with Rev. Dr. Barbara Holmes: Community Solidarity Requires Both the I and the We."
To become a Supporter or a Sponsor, please contact Meg Rayford at meg@shalem.org (301-897-7334) or simply note that when you make your gift.
Thank you to our generous Sponsors!
We'd like to offer our gratitude to the Sponsors of the 2020-21 Contemplative Voices Award:
CeCe Balboni
Center for Action and Contemplation
Sallie Chatfield