An Afternoon with Richard Rohr and Tilden Edwards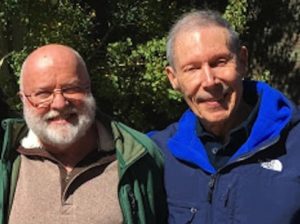 Honoring Shalem's Founder & 45 Years of Shalem's Ministry
May 20, 2018
4:00 to 6:00 PM
Bethesda United Methodist Church (NOT North Bethesda UMC)
8300 Old Georgetown Road
Bethesda, MD
This event is SOLD OUT.  We will Facebook Live this event on Shalem's Facebook page.
Fr. Richard Rohr, OFM, will join us for this special fundraising event to honor Shalem's Founder and Senior Fellow, The Rev. Dr. Tilden H. Edwards, Jr., and Shalem's 45 years of contemplative ministry.
The afternoon will include a talk by Father Richard, recognition of and response from Tilden Edwards, a short dialogue between these two contemplative leaders, music and shared prayers for the world.
Would You Like to Become a Supporter or Sponsor of this Special Event?
With gifts of $500-$999, Supporters will:
Receive four tickets
 and have your name listed in the program booklet.
With gifts of $1,000 and above, Sponsors will:
Receive up to eight tickets, available upon request; 
have reserved seating at the event; 
have your name listed in the program booklet and on Shalem's website.
To become a Supporter or a Sponsor, please contact monica@shalem.org (301-897-7334) or simply note that when you make your gift.
Sponsors & Supporters of the Event:
O. Robert Brown
Center for Spiritual Deepening (Alexandria, VA)
Susan Dillon
Etherton and Associates, Inc.
General Board of Church and Society, UMC
Charles Gibbs
Ken Haase
Joan Maxwell
Parker J. Palmer
Paul & Judith Purta
Leah & David Rampy
Frank Sasinowski
Sojourners
Clair Ullmann
Videos from the Afternoon