Ambrose Kim's Story
A Testimonial for the Leading Contemplative Prayer Groups and Retreats Program by Hong-il (Ambrose) Kim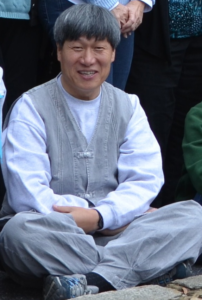 Whenever I talk with people in affliction and pain during retreats, I realize that they are "divided" in themselves.  I am not sure why they struggle with their dual self-hood, but I can see that they are not living with wholeness or true self.  Inner brokenness keeps them fighting in suffering.  It really affects their relationship with families, friends, colleagues and neighbors.  Sometimes, it makes them feel sad and gloomy.  It also causes them to be rigid and stubborn with themselves.  Unfortunately, it enslaves them to keep busy and hyper-acting.
Leading monthly one-day retreats as a retreat leader in Kangchon Retreat House in Korea, I discovered that silence worked for wounded people.  I witnessed that silence invited them to the place of healing, reconciliation and self-integration.  It is not just during the retreat but also Sunday service as well as in daily life.  Before experiencing Shalem, I thought that only a professional and skillful master or a talented person could guide retreat.
In Shalem leadership program, I learned that a true master is the Holy Spirit; Whenever I celebrated Eucharist service or leading a retreat even in my daily life I try to make a spaces where the Holy Spirit can act through.  Let the Holy Spirit come in our room!
Humbly speaking, I have no special talents.  I am not a skillful person who designs program strategies from step 1 to step 100.  However, I have faith that the power of the Holy Spirit works in silence.  This assurance gives me continuous passion and motivation whenever I lead retreats.
That is why I keep doing retreat ministry.  I always experience the power of the Holy Spirit who works among retreatants as programs go by.  Even at the last minute, I feel that the Holy Spirit still provides them with hidden precious moments in silence not returning home with hands empty.