The Mug and Me
Today's post is by Mary van Balen
I fell in love with a coffee mug. Let me explain. It happened on Friday morning at work. I came in as usual, put my lunch in the refrigerator, walked to my desk, lowered my purse into the drawer, and returned to the kitchen to pour a cup of coffee. Then, back to my cubicle.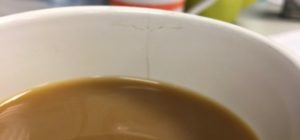 After signing in and switching IM and phone from offline to "I'm here" mode, I reached for the coffee and took a sip. That's when I saw them—the dark lines of old cracks. Starting at the pitted rim, they formed a cross whose long vertical disappeared into the coffee.
Immediately, a physical feeling of kinship with the mug overwhelmed me. I'm not in the habit of falling in love with coffee mugs or other inanimate objects, but I couldn't deny the strong bond I felt with this piece of ceramics. It wasn't even a particularly attractive piece, just the generic, workplace mug, white with the company logo on one side and a sponsoring company's logo on the other. Don't get me wrong. I'm eternally grateful that my place of work provides not only free coffee all day long, but also real mugs to drink it out of; no Styrofoam or paper cups for us.
Still, compared to the collection of mugs that fill my kitchen cupboard, this one was plain. It wasn't handmade, wood-fired, or a memento from a special place. But, it had my heart.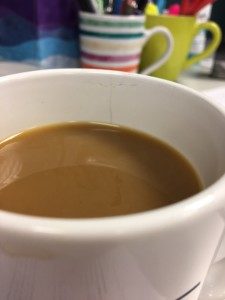 It was the cracks. The mug and I, we've been places and have the scars to prove it. We have imperfections. Weakness in glazes and materials, perhaps there from the beginning, that make us vulnerable. I can't speak for the mug, but my journey has delivered some significant hits. I've taken them, some more gracefully than others, and moved on.
A level of comfort and acceptance connected the mug and me. I had no desire to return to the kitchen and find a newer, unblemished version. It was content to sit on my desk for the day, holding refills and steeping my tea.
Relieved of the desire for perfection, we were two wounded travelers with no need to hide cracks or gray hairs. We were simply taking the day as it came, just as we were.
—
This post originally appeared at maryvanbalen.com. Photos by Mary van Balen.