Saint Bonifacia's Ordinary Way
Today's post is by Mary van Balen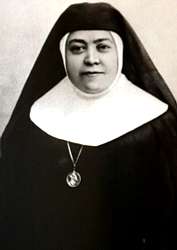 The liturgical calendar in early August celebrates the lives of three women saints: St. Teresa Benedicta of the Cross (Edith Stein), St. Clare, and Saint Bonifacia Rodriguez y Castro. If you're like me, you're familiar with the first two. But who was the third, Saint Bonifacia?
Her memorial is listed as August 7, 8, or 9th, depending on where you look, but a little research provided an inspiring portrait of the woman. Bonifacia was born in 1837, the oldest of six children, to a poor couple in Salamanca, Spain. Her father was a tailor who worked in his shop at home. Bonifacia learned not only his craft, but she and her siblings also witnessed the deep faith of both parents, lived simply in their home and community.
Her father died when she was fifteen, and Bonifacia began working for others outside her home. Eventually, she set up a shop in the family home, making and selling cords, lace, and other trimmings to support herself and her mother. Inspired by the quiet life of Mary, Joseph, and Jesus, she saw her home and shop as a little Nazareth where work and prayer were intertwined. Along with her mother, Bonifacia made daily visits to a nearby Jesuit-run church.
Other young women, attracted to her and her way of life, began to gather at her home on Sundays and feast days, finding a safe place to gather and support one another with prayer and Scripture, listening and encouraging as women do. The house-shop became a safe haven for women to work and pray.
Though Bonifacia longed to become a Dominican, the Jesuit priest at her church, Francisco Javier Butiña y Hospital (her spiritual director), had another idea. His deep concern for the plight of post Industrial Revolution factory workers and respect for the path to holiness through ordinary work resonated with Bonifacia. He suggested that together they establish a congregation to protect the women workers and promote a spirituality that embraced manual work as a way to holiness, not an impediment. The congregation became known as the Servants of Saint Joseph.
This was a new form for a women's congregation, and while supported by some and by the local bishop at the time of its foundation, it later met with resistance from those more comfortable with women in convents. Like many before her, she suffered for her vision and determination to remain faithful to it.
As Saint John Paul II said in his homily at her beatification, "It was a form of religious life too daring not to have opposition. Immediately it was attacked by the then traditional diocesan clergy of Salamanca who does not grasp the evangelical depth of this form of life which is very close to the world of work."
While this column doesn't provide space to tell all her story, I can emphasize the importance her life and vision have for us today. Despite Vatican II's insistence that the call to holiness is given to everyone and is found in all walks of life, many church faithful, clergy and lay alike, still think the path to sanctity is somehow separate from ordinary life. Holiness is seen best pursued in convents, monasteries, or rectories. Or at least in occupations connected with church or overtly religious activities.
Bonifacia knew better. Through prayer and reflection, she recognized God's call deep within and trusted it, remaining faithful when others opposed and mistreated her. It's easy to doubt the word that God speaks in our hearts, the call that directs us to bring God into the world in a way uniquely given to each of us, right where we are.
Bonifacia also knew that we don't walk the path to God alone. We walk together. As she said, "We should be all for all, following Jesus."  But trusting God's indwelling in the "other" is a challenge, especially if the "other" looks different than we do, speaks a different language, or has views different than our own. Despite its difficulty, this ordinary path transforms the world by our taking God's Presence into it.
The world needs people committed to this simple way of prayer and bringing the God we come to know within out into the streets and workplaces. Not by heavy handed evangelizing and dogma, but by living with love and joy, responding to the needs of those we encounter. By truly listening to "others," open to recognize and receive God who dwells in their hearts. And like Bonifacia, by having courage to speak our truth to power. To do something different in familiar places.
—
Originally published in The Catholic Times Aug. 13, 2017