Connecting to Earth's Rhythm: A Pilgrimage of Drumming, Silence and Soul in the Pacific Northwest
September 21-28, 2018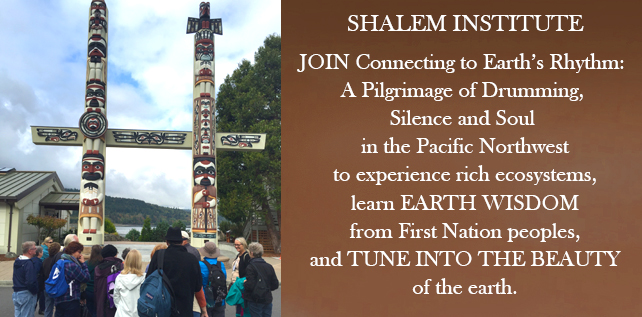 Overview
The Olympic and Kitsap Peninsulas in Washington state offer a rare and unique experience of rugged terrain, plentiful life, and ecosystems so rich and diverse that they abundantly sustain body, mind and spirit. Anchored by the Olympic Mountains, this liminal space is bordered by the Pacific Ocean, Puget Sound and the Strait of Juan de Fuca.
On this pilgrimage, we will explore and honor land, sea and sky as we tune in to the spectacular beauty and stillness all around us. It will be our honor to learn Earth wisdom from First Nation peoples who have lived for generations in this area. We'll find opportunities for connection through drumming, silence, and shared experience.
As we slow our pace, we become more aware of the natural Earth rhythms and sacredness of this world; as we still our voice, we come home to the Wisdom within and around us. We invite you to dedicate a week and join with us to walk in beauty with Earth's heartbeat, to feed our souls, and to reaffirm our place in Creation.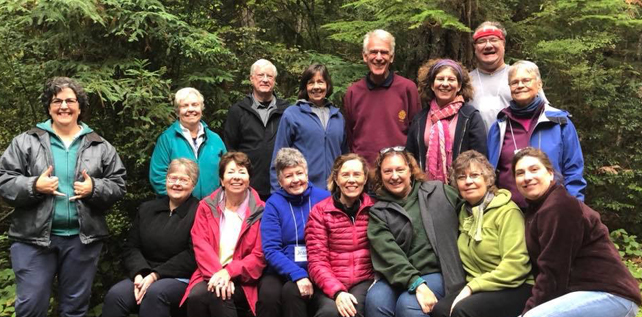 Lodging & Itinerary
Lodging
Seabeck Conference Center, Seabeck, WA
www.seabeck.org
Seabeck Conference Center is located on 90 beautiful acres with sweeping views of Hood Canal and the Olympic Mountains. The grounds are reminiscent of a small village, complete with walkways that meander past manicured lawns, fruit orchards, and wooded trails. In your free time you can wander the trails, swim or boat in the lagoon, or beach comb when the tide is out.
Tentative Outline of Itinerary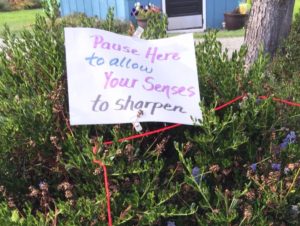 Friday "Slowing into Pilgrims"
We begin our pilgrimage at the Seabeck Conference Center with introductions and setting our pilgrim intentions. Plan your schedule to arrive and settle in ahead of our opening circle at 4:30 p.m. After dinner, we'll begin a simple practice to help us settle into a slower pace.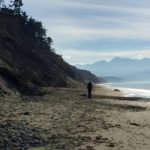 Saturday, Sunday "Lessons from the Land"
Staying on site, we will begin each day with a time of simple presence, followed by a morning seminar and practice. There will be free time after lunch for exploring the woodland or beach, or simply resting in Earth's beauty. We will join together in the late afternoon for small group sharing. Saturday evening we'll come together in a drum circle to welcome the Autumnal Equinox. Sunday evening we will share an outdoor time of contemplative worship before meeting to go over our upcoming travel.
Monday "Lessons from the People"
Our travels will take us to the Suquamish Museum on the Port Madison Indian Reservation, an area that has been home to the Suquamish people since time immemorial. We will learn from the art and artifacts of "People of the Clear Salt Water" as well as from our guide. At the gravesite of Chief Seattle, we'll pause to honor his wisdom and to offer our prayers for healing the wounds of the past.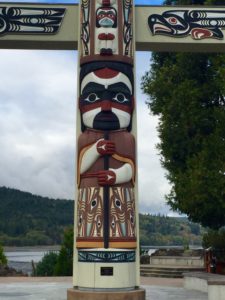 Tuesday "Lessons from the Waters"
Today we will travel into the Olympic National Park, visiting the Overlook of the Glines Canyon Spillway, to enjoy the canyon views where the Elwah River's blue-green waters flow through the 200-foot-deep Glines Canyon. We'll follow the Elwha downstream and sit along the bank where the river flows freely. A short walk will take us to the beautiful Madison Falls. At the river's edge we'll offer a thanksgiving for all who worked on the largest dam removal and restoration project in US history, setting the river free again and making way for the salmon to return. We'll journey on to Crescent Lake, a deep, glacially carved lake rich in natural beauty. You will have time to immerse yourself in a walk through an old growth forest as you make your way to Marymere Falls, a 90-foot waterfall. A self-guided nature trail offers a more leisurely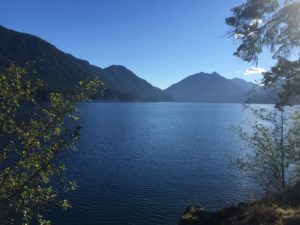 forest walk by the lake. Lake Crescent Lodge offers a place for lunch overlooking the pristine waters.
Wednesday "Lessons from the Stories"
On this special day, we will visit totems of the Jamestown S'Klallam Tribe and listen to the stories of the tribe as reflected in their art. When we return after lunch, we'll move into our silent retreat.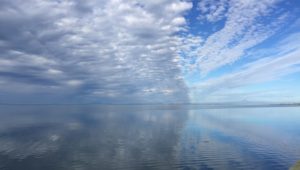 Thursday "Lessons from Stillness"
The silent retreat continues. In the afternoon, we will break our silence by drumming together before we enjoy our final farewell.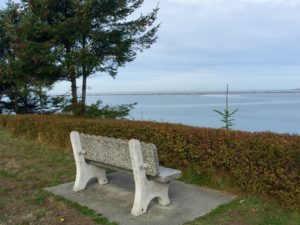 Friday "Taking the Blessing Home"
We will have a morning plenary and pilgrim circle before we close by 11:00 AM so that you may begin your homeward journey, carrying the blessings of this week with you.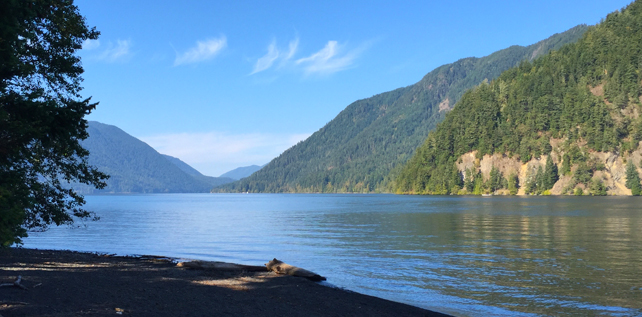 Leaders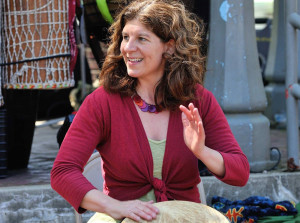 Katy Gaughan  Katy is a retreat leader, drummer and drum circle facilitator who loves bringing people together through the positive vibrations of the drum. She is a graduate of Shalem's Transforming Community: Leading Contemplative Prayer Groups & Retreats Program and facilitates group experiences for wellness, community building and celebration.  www.katygaughan.com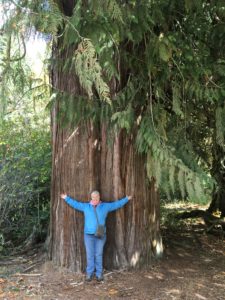 Leah Rampy is an experienced retreat, seminar and pilgrimage leader and Shalem's former executive director. She is passionate about contemplative ecology and sharing her love for Earth and is thrilled to be leading this pilgrimage again. Leah and her husband live on eight acres in the Shenandoah Valley where they use restorative agriculture and permaculture principles to create their gardens and expand the habitat for pollinators and animals.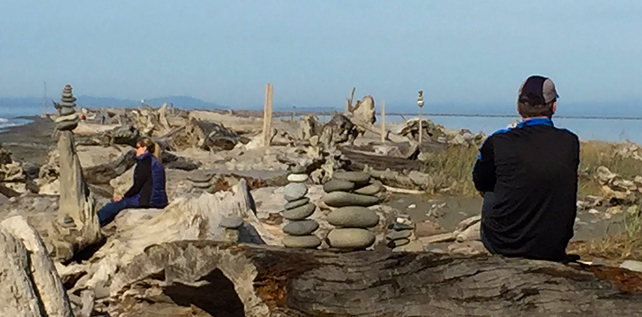 Price & Register Now!
Registration has closed.
Contact katy@shalem.org with any questions.
Program Cost
$2,500 per person, double occupancy
Additional $150 for single room with shared bath
Limited single rooms available; first come, first served.  
Cost includes seven nights accommodation at Seabeck Conference Center; seven breakfasts, three lunches, seven dinners; entrance to Olympic National Park; coach travel and entrance to all specified pilgrimage sites. * Cost does not include three lunches, airfare, or travel to and from Seabeck Conference Center.
Payment Schedule
$500 per person (non-refundable deposit) due to Shalem to reserve your space. Reserving your space is contingent upon receipt of your deposit.
$1,000 per person (interim payment) due July 2, 2018
$1,000 per person (final payment) due August 1, 2018
(Additional single supplement payments, if applicable, will be due with final payment.)
If you must cancel your reservation, refunds will be made as follows:
Cancellations received on or before July 21, 2018: 50% of monies received minus $500 nonrefundable deposit; no refunds will be made for cancellations received after July 21, 2018.  Shalem reserves the right to cancel the pilgrimage for any reason, in which case you will receive a full refund of all monies paid.
* Brementon-Kitsap Airporter will take you from SEA-TAC to Silverdale Beach Hotel, which is the closest stop to Seabeck Conference Center. Shalem will provide pick ups from Silverdale Beach Hotel up til 3pm on Sept. 21 or you can get a taxi / Uber from Silverdale to Seabeck. There are no advance reservations available from SEA-TAC to Silverdale. When you land at SEA-TAC, go to baggage claim #1 , turn right and go to the Scheduled Airporters Desk. Tell them you want a ticket on the Brementon-Kitsap Airporter to Silverdale. Cost is $26/person (cost subject to change). The trip is 90 minutes from SEA-TAC to Silverdale so budget about 2 hours from when you land to arriving at Seabeck. Buses pick up every hour on the half hour, so plan accordingly to get on the 1:30pm shuttle bus at the latest, to get you to Seabeck comfortably by 3:30pm. (There is a possibility that the bus will be full, which means you'd have to wait to get on the next one.) Check in is at 4:00pm. Our opening circle is at 4:30pm.
Return trips can be scheduled in advance from Silverdale to SEA-TAC.