New Year, New Life, Renewed Call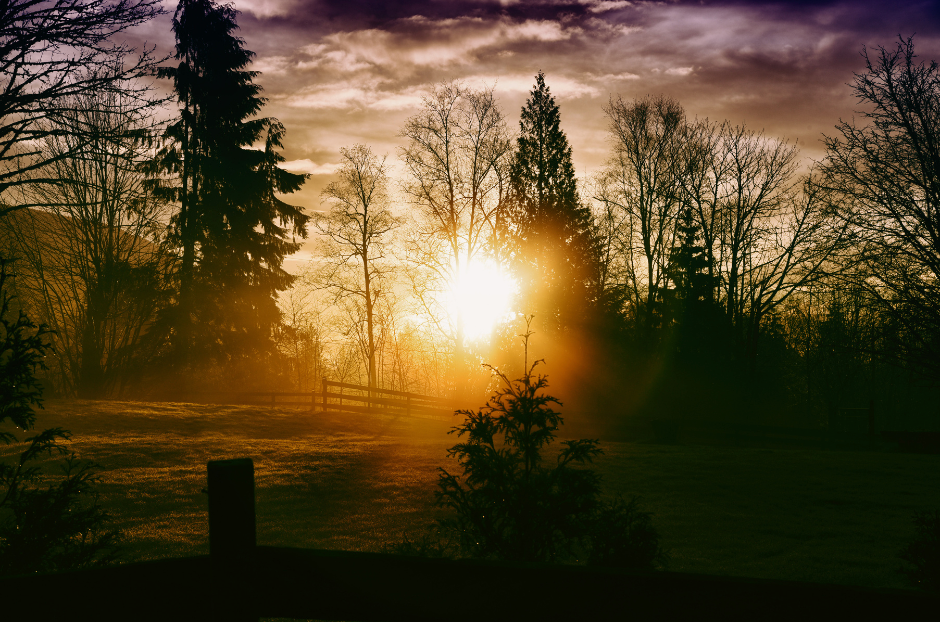 Early one morning something was stirring outside. It was almost as if something was tapping on the window, beckoning me out. I pulled open the front door and immediately felt light gusts of wind as I stepped onto our sheltered patio. As I looked heavenward, the upper branches of the eighty-foot redwoods by the garage were gently swaying in the breeze. But the movement I experienced wasn't just from the tips of the impossibly high redwoods; "it" was all around me. Caresses of wind touched my face and clothing as I felt the air coming from all directions. As I stood there, I realized something was stirring within me as well. I simultaneously felt a strong sense of anticipation and a belonging to something far greater. I was home, yet an experience of larger connection was drawing me out: a mystery to be encountered, a new life to be led.
The smell of the air that morning telegraphed a storm that would arrive later, bringing badly needed water to the West, albeit with floods, high winds, and soil erosion. The rain arrived at the same time as the seasonal call of a new year. One of the aspects of my Christian faith that I treasure is the call to new life and the opportunity to return, again and again, to the Presence whose passionate call of love is always a single breath away. The Beloved speaks and calls to us, 'Arise, my loves, and come away' (Song of Songs 2:10). As the wind blessed me, I felt the movement of epiphanies yet to be born stirring within my heart.
This sense of anticipation and belonging to something far greater happens every time I am on a retreat, whether as a leader or participant. Recently, as part of an Advent Retreat based on the book, Mother of God: Similar to Fire, I used what I had learned through Shalem's Transforming Community: Leading Contemplative Spiritual Groups & Retreats to lead a practice using icons of Mary. My formal training allowed me to be present with the participants and the prayer practice. Deeper than that, the Transforming Community program made me recognize the importance of responding to the ineffable call of the Beloved to yield, listen, and embrace the call to the contemplative life.
Following the call to a contemplative life bestows great gifts. For instance, as the Advent retreat began, I felt a shimmering awareness of unconditional love for the participants and what we were about to encounter together: bursts of light, love, and deep connection.
Perhaps you too, are hearing something tapping at the window to your soul as the new year begins.
"Arise, my loves, and come away." Come away and be a new creation, so that the world may be transformed by your love.